PRIVATE LESSON
1 Hour Personal Instruction per guest $60 (All Ages)
Call 419-774-9818 Option 3 between 10A-6P
SEMI-PRIVATE LESSON
1 Hour of Personal Instruction. $90 for first two, $30 per additional person. (4yrs & Up)

Call 419-774-9818 Option 3 between 10A-6P

Great option for Families. Learn together. Make memories together.
 We will tailor the Lesson for you and your guests.
Booking changes are required 24 hours in advance of your original date/time. No Refunds. All Sales Are Final.
We require time for our team to process requests and release reservations to the public for rebooking. Any requests made within 24 hour of/or after the original arrival date/time cannot be accepted. 
If this will be your first-time skiing or snowboarding, the Let's Get Started Package listed below is the best way to start for those 9yrs and Older. Our highly recommended Beginner's Area will allow you to become a confident skier or snowboarder in the shortest amount of time. You can get out there and start having fun right away!
3 Items in Grid
4 Items in Grid
List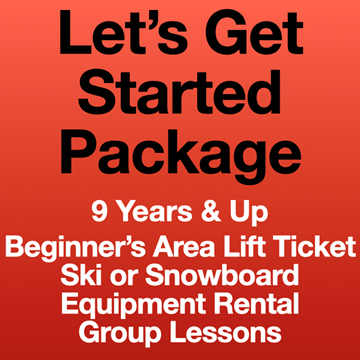 NO REFUNDS. Rebooking requires 24 hours of advanced notice. 9 Years of age and older only. Pick your 1 Hour Group Lesson time and we'll get you in a Group Lesson as soon as you are ready. Your Lift Ticket is good for all day in the Beginners Area before or after your selected lesson time. The package also includes Ski or Snowboard Equipment Rental and 1 hour Group Lesson FREE with package. Schedule your lesson time but come as early as you want! This is an all-inclusive package to get you started skiing or snowboarding with the benefit of learning from one of our friendly Snow Sports Instructors.
This is a skiing based program only. See below for program details. Make your $0 online registration by 8:00AM on the day of arrival. Check in at the Snow Sports Office in the back of the Rental Center and pay for any needs upon arrival.